Off the keyboard of Jason Heppenstall
Published on 22 Billion Energy Slaves on January 8, 2013
Discuss this article at the Epicurean Delights Smorgasbord inside the Diner
A while back I wrote a series of half-serious posts entitled
Peak n'Oil
. In them I attempted to pick out some tracks to listen to as we tumble down from the heights of
Hubbert's Peak
. At the time, as far as I was aware, nobody was actually writing songs about peak oil and the associated civilizational decay, so most of the tracks I picked dealt with it tangentially.
All that has changed with Muse's latest album entitled
The 2nd Law
. So when I got this album at Christmas it was, well, like Christmas for me. Not only had my favourite current band released a new album, but the lyrics and subject matter of the music was all about peak oil.
Well, not quite about peak oil. The Second Law of Thermodynamics concerns entropy, and what from our point of view we might as well call energy death. It states that isolated systems always evolve towards a state of thermodynamic equilibrium and therefore maximum entropy. Energy flows from zones of higher temperature to areas of lower temperature. My cup of tea is doing a very good demonstration of it right now. They also flow from concentrated form to diffuse form, providing said energy is not locked into a chemical state. To get out of that state it needs a catalytic agent.
Scale up from my cup of tea to the entire planet and that's our peak energy problem in a nutshell. We humans have been taking the concentrated forms of energy – oil, coal and gas – which were formed over geological time, and have been turning them into diffuse heat in the atmosphere. It's what we do every time we drive a car or turn on the kettle. In this way we have placed a single complex biological organism – us – at the centre point between concentrated and diffuse energy forms.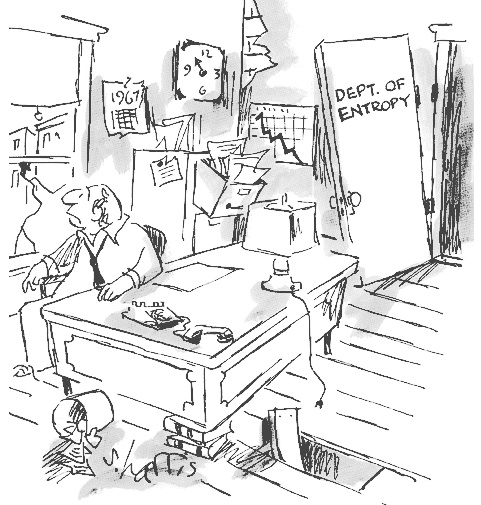 Doing so has enabled us to have a fossil fuel party for a couple of centuries, and we have configured our economies, societies and cultures as if we were always going to remain at this central pivotal point between concentrated and diffuse energy. Our ability to do this has marked us out as a successful species, easily able to replicate our DNA and perpetuate our progeny, because the ability to leverage other forms of energy in favour of the agent species is what marks it out as successful. That's why foxes eat rabbits.
If you believe that we can maintain our pivotal position ad infinitum that marks you out as a cornucopian. If, however, you harbour doubts about whether this is possible, or indeed desirable, then you belong to the reality-based community who recognise that our default position is not at the exact centre of that energy equation and may be starting to drift off target.
Matthew Bellamy, Muse's frontman, is a thoughtful chap and recognizes this. Who knows, he might even be lurking out there in the peak oil blogosphere under a pseudonym. He's only got it slightly wrong, reason would suggest, in that the Second Law is concerned with closed systems and planet Earth isn't a closed system as it gets inputs of solar radiation from the sun, and leaks heat back into space as well. But never mind that, it shouldn't spoil your enjoyment of what, in my opinion, is Muse's best album to date.
Incidentally, if you're in north America, you can catch them on their latest tour. They are well worth seeing live.
Houses in Germany with solar roofs. Image from here.
Well, it's been a busy few days since Christmas, which has seen me in no less than six different countries. The reason for this was the fact that I had to go over to England to pick up a large trailer I got cheap on eBay, as well as a bargain basement 10 year-old-car to pull it.
When I got to England, on Boxing Day I couldn't help but notice the whole place looked like a giant space toddler had spilled a cosmic glass of water over the whole country. Roads were submerged and trees poked out of what appeared to be lakes but were in fact fields. I have never seen the country looking so bedraggled and wet and it is quite amazing to think that only about ten months ago I
wrote a post
about the fact that meteorologists were forecasting a drought that would dry up all the rivers and lead to a devastating loss of wildlife. Well, they were a bit wrong on that one, with 2012 forecast to be the wettest year on historical record for England. Welcome to the new normal.
On the way out of the country a couple of days later, indeed, a flooded road led me to miss my car-train through the Channel Tunnel and I didn't arrive in France until fairly late into the evening. When I did get there, France was entirely dark, so I don't have any observations to make about the place, other than that it gets dark there at night time. Ditto with Belgium, which I entered later in the evening.
I had to make it to Eindhoven in Holland, where my motel bed awaited me, and did so at about 11pm. Starving hungry I enquired about getting something to eat (this particular establishment being located close to the motorway for ease of parking/locating) and was told that I could either pick from the restaurant or order sushi in the bar. A quick look at the restaurant confirmed that it was outside of my price league, so I retired to the bar to nibble on some wallet-emptying raw fish and sink a fine Belgian beer. Not for the first time in my life I marveled at the fact the Dutch are the best English speakers in the world; far better, indeed, than the English.
The next morning I hit the road again with my frankly gigantic trailer. The rain had cleared and it was sunny, illuminating the green Dutch landscape and putting me in a dreamy frame of mind. I had been driving at a steady 80kmph (50mph) all the way, as this is considered the best speed at which to save fuel – and here in Holland I noticed a strange thing: everyone else seemed to be doing the same. There were no aggressive light-flashing BMWheads eyeballing me as they screamed past. I had heard it said that the Dutch had got into
eco driving
as part of their fossil fuel energy descent plan, and here was the proof of it.
All that changed when I got into Germany. I always feel a bit nervous in Germany because I don't speak more than about 50 words of German – a language deficiency often reciprocated by the natives in my experience. It has been a couple of years since I was last there – but what a difference! It is obvious even to one passing through that Germany is going hell for leather to make itself
run on renewable energy
. Last time I was there you could see all the wind turbines that had sprouted across the landscape – this time the story was all solar.
I'm used to seeing the odd house here in Denmark or the UK with a few solar panels on it. But Germany seems to be ramping up this on an industrial scale. Many houses sported 10-40 panels, but it was common to see barns, factories and even car showrooms with roofs made entirely of panels. Usually, as far as I could tell (remember, I was driving past) there would be 100-200 panels per roof. The record was one which had eight clusters of 8*8 panels, meaning there must have been 480 panels on a single roof.
A warehouse roof in Germany
Of course, and readers of this blog and ones like it will be well aware, that doesn't make Germany 'green' or sustainable. There are still the monster truck parks, the giant supermarkets, the sprawling highways full of brand new cars driving at 200kmph (124mph) – and let's not forget that Germany is a manufacturing country with a huge demand for high concentration energy and raw materials. I'm also well aware that Germany benefits from trading electricity with nuclear France, using that country as a giant battery.
But still. It's hard not to admire the direction the country is taking. Everyone seems to be on board with it, and you'd have to be a dyed-in-the-wool cynic to say that a huge overhaul of the energy system conducted by this nation of engineers is not a step in the right direction