Off the keyboard of Jim Quinn
Published on The Burning Platform on December 3,2012
Discuss this article at the Epicurean Delights Smorgasbord inside the Diner
"Eyes blinded by the fog of things
cannot see truth.
Ears deafened by the din of things
cannot hear truth.
Brains bewildered by the whirl of things
cannot think truth.
Hearts deadened by the weight of things
cannot feel truth.
Throats choked by the dust of things
cannot speak truth."
― Harald Bell Wright – The Uncrowned King
I consider myself a seeker of truth. It isn't easy finding it in todays' world. In an alternate version of the famous scene from A Few Good Men, I picture myself telling Turbo Tax Timmy Geithner that I want the truth and his angry truthful response:
"Son, we live in a world that has Wall Street banks, and those banks have to be guarded by puppet politicians in Washington D.C. with lobbyist written laws and Madison Avenue PR maggots with media propaganda. Who's gonna do it? You? You, Representative Paul? I have a greater responsibility than you could possibly fathom. You weep for the average middle class American family, and you curse the ruling oligarchs. You have that luxury. You have the luxury of not knowing what I know. That the death of the American middle class, while tragic, probably saved the bonuses of thousands of Wall Street bankers. And my existence, while grotesque and incomprehensible to you, increases the wealth of these same bankers who destroyed the worldwide economic system in 2008. You don't want the truth because deep down in places you don't talk about in the food bank line, you want me on Wall Street, you need me on Wall Street. We use words like derivative, fiscal stimulus, quantitative easing. We use these words as the backbone of a life spent syphoning off the wealth of the nation. You use them as a punch line. I have neither the time nor the inclination to explain myself to a man who rises and sleeps under the blanket of the very debt that I provide, and then questions the manner in which I provide it. I would rather you just said thank you, and went on your way, Otherwise, I suggest you pick up 1000 shares of Apple, and hope our high frequency trading supercomputers can ramp the market for a while longer. Either way, I don't give a damn what you think you are entitled to."
I find myself more amazed than ever at the ability of those in power to lie, misinform and obfuscate the truth, while millions of Americans willfully choose to be ignorant of the truth and yearn to be misled. It's a match made in heaven. Acknowledging the truth of our society's descent from a country of hard working, self-reliant, charitable, civic minded citizens into the abyss of entitled, dependent, greedy, materialistic consumers is unacceptable to the slave owners and the slaves. We can't handle the truth because that would require critical thought, hard choices, sacrifice, and dealing with the reality of an unsustainable economic and societal model. It's much easier to believe the big lies that allow us to sleep at night. The concept of lying to the masses and using propaganda techniques to manipulate and form public opinion really took hold in the 1920s and have been perfected by the powerful ruling elite that control the reins of finance, government and mass media.
Peddlers of Propaganda
"Great is truth, but still greater, from a practical point of view, is silence about truth." – Aldous Huxley – Brave New World
Adolf Hitler understood the power of the big lie over the ignorant masses who want to believe:
"All this was inspired by the principle–which is quite true within itself–that in the big lie there is always a certain force of credibility; because the broad masses of a nation are always more easily corrupted in the deeper strata of their emotional nature than consciously or voluntarily; and thus in the primitive simplicity of their minds they more readily fall victims to the big lie than the small lie, since they themselves often tell small lies in little matters but would be ashamed to resort to large-scale falsehoods. It would never come into their heads to fabricate colossal untruths, and they would not believe that others could have the impudence to distort the truth so infamously. Even though the facts which prove this to be so may be brought clearly to their minds, they will still doubt and waver and will continue to think that there may be some other explanation. For the grossly impudent lie always leaves traces behind it, even after it has been nailed down, a fact which is known to all expert liars in this world and to all who conspire together in the art of lying." – Adolf Hitler – Mein Kampf
We are all liars. We lie to friends, family and co-workers. We convince ourselves they are only small lies and just protect others from being hurt. We would rather be lied to than face the blunt truth about our deficiencies, shortcomings and failures. Willfully believing mistruths allows a person to become dependent upon those promulgating the mistruths. It relieves them of their responsibility to act upon the knowledge that something is wrong and must be fixed. It is a cowardly path to ultimate servitude and destruction. The German people chose this path in the 1930s and the American people have chosen a similar and ultimately destructive path today. The United States Office of Strategic Services prepared a psychological profile report during the war describing Adolf Hitler's method for controlling the minds of the German masses:
"His primary rules were: never allow the public to cool off; never admit a fault or wrong; never concede that there may be some good in your enemy; never leave room for alternatives; never accept blame; concentrate on one enemy at a time and blame him for everything that goes wrong; people will believe a big lie sooner than a little one; and if you repeat it frequently enough people will sooner or later believe it."
America's corruptible politicians, greedy corporate chieftains, criminal banking overlords, and despicable media manipulators all learned the sordid lessons of mass propaganda from the masters. Our willingness to lie and be lied to set us up to be manipulated by those who understood the mass psychology of a nation. Goebbels and Hitler were heavily influenced by the father of propaganda – Edward Bernays. He and his disciples are professional poisoners of the public mind, exploiters of public foolishness and ignorance, and never allow truth to interfere with a good story. What master manipulators realized is that it is easier to change the attitude of millions than the attitude of one man. By analyzing and understanding the process and motives of how the group mind works, the invisible government has been able to manipulate and regulate the masses according to their will without the masses knowing they are being managed. Bernays described this elitist view of the world in 1928:
"Those who manipulate the unseen mechanism of society constitute an invisible government which is the true ruling power of our country. We are governed, our minds are molded, our tastes formed, our ideas suggested, largely by men we have never heard of. This is a logical result of the way in which our democratic society is organized. Vast numbers of human beings must cooperate in this manner if they are to live together as a smoothly functioning society. In almost every act of our lives whether in the sphere of politics or business in our social conduct or our ethical thinking, we are dominated by the relatively small number of persons who understand the mental processes and social patterns of the masses. It is they who pull the wires that control the public mind." – Edward Bernays – Propaganda
The super-rich elite believe they are more intelligent, more capable of managing the affairs of state, masters of the financial world, and chosen to decide what is best for the masses. In reality, they are egocentric, psychotic, power hungry, myopic, self-serving ravenous vultures, feasting upon the carcass of a once great nation. Truth is inconsequential and irritating to their plans for world domination and control. Therefore, no truth will be forthcoming from any organization or person that is associated with the existing political, economic, financial or social order. Every bit of information that is permitted into the public realm has been vetted, manipulated and spun for public consumption. The public does not like bad news. They do not like hard facts. They do not like to think or do math. They want to be spoon fed mindless sound bites and happy talk. The oligarchs need to keep the masses sedated and subservient while they continue to plunder and pillage, so all data is massaged to provide a happy ending.
This is where I deviate from the ideologue one-trick ponies that refuse to see both sides of the issue. The ruling oligarchs are wealthy, influential, psychotic, amoral, and few. The masses are relatively poor, easily influenced, willfully ignorant, and many. The ruling oligarchs are most certainly evil, but the masses are not the hard working, stoic, downtrodden portrayed by liberal ideologues. One just needs to walk down the street in one of our urban enclaves, saunter through a suburban mall, or click on People of Wal-Mart to witness the tattooed, pierced, butt crack showing, slovenly, obese, and ignorant, attached to their electronic iGadgets, to understand how far our society has deteriorated. Every individual born into this world has the capability to become educated, think critically, not follow the herd, live beneath their means, and not be influenced by propaganda. Aldous Huxley understood in 1931 that those in power could use material goods to invoke passivity and egotism among the populace. He feared that truth would be obscured by an avalanche of irrelevance (500 Reality TV shows), cultural trivialities (Lady Gaga, Lindsey Lohan), distractions (Professional sports), and pharmaceutical enhanced escape (Prozac). He saw the possibility that we would grow to love our servitude as the pleasures of life provided by our controllers overwhelmed any desire to think or question authority.
"There will be in the next generation or so a pharmacological method of making people love their servitude and producing dictatorship without tears, so to speak, producing a kind of painless concentration camp for entire societies so that people will in fact have their liberties taken away from them but will rather enjoy it." ― Aldous Huxley
By 1962 when Huxley wrote his last book, he was certain that his worst dystopian nightmares had been unleashed. His description of Western society fifty years ago could have been written today and accurately reflected our current economic paradigm. War, debt and consumption still make our world go round, but the end is nigh.
"Armaments, universal debt, and planned obsolescence – those are the three pillars of Western prosperity. If war, waste, and moneylenders were abolished, you'd collapse. And while you people are over-consuming the rest of the world sinks more and more deeply into chronic disaster." – Aldous Huxley – Island
The pillars are crumbling. The $1.4 trillion wasted on two worthless wars of choice in the Middle East, the trillions wasted and liberties sacrificed for the never ending unwinnable War on Terror, the Keynesian spending frenzy that has driven the National Debt from $9 trillion to $16.3 trillion in the last five years, the looting of the American taxpayer by Wall Street and their co-conspirators at the Federal Reserve and in Congress, and the belief that ramping up the debt driven consumption that drives 71% of our GDP is our path to prosperity is absolutely freaking nuts. The pillars will not be abolished willingly. The ruling class depends upon their continued existence and expansion. There is the rub. The math doesn't work. We've reached the point where continued expansion of debt and money printing no longer works. With a national debt to GDP ratio of 102% and a total credit market debt to GDP ratio of 350%, we have passed the Rogoff & Reinhart point of no return. This time is not different. A country cannot run trillion dollar deficits indefinitely and expect to not suffer the consequences. This is why those in power are increasingly resorting to propaganda, data manipulation, and outright lies to convince the masses of their omnipotence and brilliance in managing the fiscal affairs of the state.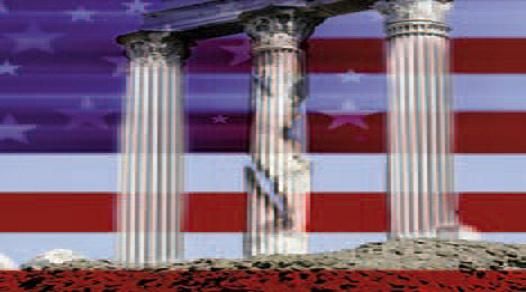 "One believes things because one has been conditioned to believe them." – Aldous Huxley – Brave New World
Through decades of mass media messaging the masses have been conditioned to believe whatever those in power want them to believe. To our invisible government rulers we are nothing but rats to be manipulated through food pellets and shock therapy. Pleasure and fear of pain are the drivers of our warped society. The ruling oligarchs truly think they know what is best for the masses and believe any means is worthwhile as long as the ends support their agenda. This is blatantly obvious to anyone with their eyes open and their brain functioning. Sadly, the government run educational system produces mostly drones that are barely able to tie their own shoes, spell Cat, or make change from a one dollar bill. Only 20% of all high school seniors score high enough on the SAT test to get a B minus in college and most of these kids come from private and parochial schools. This is exactly what those in power prefer. They want non-critical thinking, mindless consumers, who don't understand the criminal nature of Federal Reserve created inflation or their enslavement in the chains of debt at the hands of their Wall Street slave owners. They certainly don't want the masses to understand that real median household net worth is lower today than it was in 1969. Luckily for the oligarchs, 95% of the public couldn't define the terms: real, median or net worth. Math is hard.
The average person is inundated on a 24/7 basis with pabulum from liberal network media talking heads, CNBC Wall Street shills regurgitating whatever their sponsors desire, Fox News blonde bimbos and neo-con war mongers programmed to spew Rupert Murdoch talking points, MSNBC tingling leg faux journalists, NYT intellectually corrupt Nobel prize winners, NAR nitwits repeating "best time to buy" on a daily basis for the last 12 years, and government agencies whose sole purpose is to manipulate data in a way that supports the agenda of those in power. The intellectually lazy and willfully ignorant masses are no match for those who control the message and the media. How else can you explain their ability to convince millions of drones to line up for hours in front of a store and stampede like crazed hyenas to grab a $5 crockpot, the Chinese produced gadget of the moment or a designer top made by slave labor in safety conscious Bangladesh factories? How else can you explain a population willing to be molested by government TSA dregs in the name of security from phantom terrorists, the passive acceptance of military exercises in US cities, unquestioning submissiveness as Presidential Executive Orders allow the government dictatorial powers based on their judgment, the monitoring of internet and voice correspondence of all citizens, and believing that FBI agents luring clueless teenage Muslim dupes into fake terrorist plots, providing the fake explosives, and then announcing with great fanfare how they saved us from another 9/11?
But, the prize for boldest, most outrageous, blatant use of propaganda and misinformation to cover-up their criminal looting of America goes to Ben Bernanke, his cronies at the Federal Reserve, and the Wall Street banks that own and control our Central Bank. Having the gall to portray themselves as the stabilizer of our economic system over the last 100 years is a putrid joke on the dying and broke middle class. Their mandate has been stable prices, full employment, and avoiding financial crisis. It is a tribute to Bernays and the rest of the public relations swine that the average American actually believes inflation is a good thing and it is under control despite the FACT that 96.2% of their purchasing power has disappeared since 1900, with the most rapid decline occurring since Nixon closed the gold window in 1971.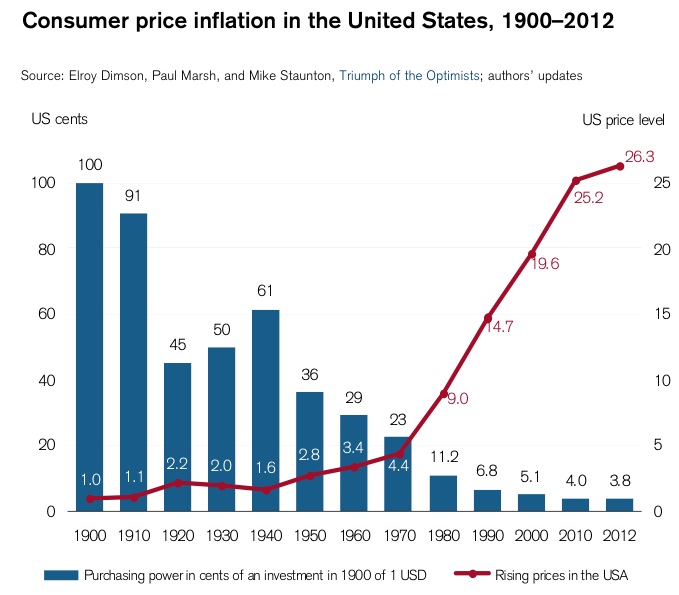 The average American actually believes Ben Bernanke saved us from a Great Depression when in actuality he saved the owners of the Federal Reserve from accepting the losses they generated through the greatest financial fraud in history. His "solutions" have zombified our economic system, just as the Japanese Central Bank did 20 years ago. He has destroyed the concept of saving, while rewarding the indebted and profligate with his QE to Infinity money printing policies. And the ignorant masses have been convinced by the corporate media and their corrupt government lackeys that Ben did this for them. Kyle Bass knows otherwise. He knows how the Fed and their backers have preyed upon the masses through their understanding of human psychology:
"Humans are optimistic by nature. People's lives are driven by hopes and dreams which are all second derivatives of their innate optimism. Humans also suffer from optimistic biases driven by the first inalienable right of human nature which is self-preservation. It is this reflex mechanism in our cognitive pathways that makes difficult situations hard to reflect and opine on. These biases are extended to economic choices and events. The primary difficulty with this train of thought is the bias that most investors have for the baseline facts: they tend to believe that the central bankers, politicians, and other governmental agencies are omnipotent due to their success in averting a financial meltdown in 2009.
Central banks have become the great enablers of fiscal profligacy. The overarching belief is that there will always be someone or something there to act as the safety net. The safety nets worked so well recently that investors now trust they will be underneath them ad-infinitum. Markets and economists alike now believe that quantitative easing ("QE") will always "work" by flooding the market with relatively costless capital. Unlimited QE and the zero lower bound ("ZLB") are likely to bankrupt pension funds whose expected returns happen to be a good 600 basis points (or more) higher than the 10?year "risk-free" rate. The ZLB has many unintended consequences that are impossible to ignore.
Our belief is that markets will eventually take these matters out of the hands of the central bankers. These events will happen with such rapidity that policy makers won't be able to react fast enough. The fallacy of the belief that countries that print their own currency are immune to sovereign crisis will be disproven in the coming months and years. Trillions of dollars of debts will be restructured and millions of financially prudent savers will lose large percentages of their real purchasing power at exactly the wrong time in their lives. Again, the world will not end, but the social fabric of the profligate nations will be stretched and in some cases torn. Sadly, looking back through economic history, all too often war is the manifestation of simple economic entropy played to its logical conclusion. We believe that war is an inevitable consequence of the current global economic situation." – Kyle Bass
What's Normal in a Profoundly Abnormal Society?
"The real hopeless victims of mental illness are to be found among those who appear to be most normal. Many of them are normal because they are so well adjusted to our mode of existence, because their human voice has been silenced so early in their lives, that they do not even struggle or suffer or develop symptoms as the neurotic does." They are normal not in what may be called the absolute sense of the word; they are normal only in relation to a profoundly abnormal society. Their perfect adjustment to that abnormal society is a measure of their mental sickness. These millions of abnormally normal people, living without fuss in a society to which, if they were fully human beings, they ought not to be adjusted." – Aldous Huxley – Brave New World Revisited
No sane person could honestly say that what has happened to our society over the last forty years, and particularly in the last five years, is normal. But somehow those in power have convinced the masses that $1.2 trillion deficits, 0% interest rates, declining real wages, the highest average gas prices in history, pre-emptive wars, policing the world and buying rubber dog shit produced in China with a credit card is normal and beneficial to our economy. It seems that I and a few million other people in this country are the abnormal ones. We choose not to be led to slaughter by our masters. The seekers of truth have turned to the alternative media and are able to connect with like-minded critical thinking individuals on websites like Zero Hedge, Jesse's Americain Café, Of Two Minds, Mish, Financial Sense, among many other truth seeking blogs. This is dangerous to the powers that be and they are using their political clout and extreme wealth to try and lock down and control free speech on the internet. If this is accomplished all hope at disseminating truth will be lost.
Abraham Lincoln once said that he believed in the people and that if you told them the truth and gave them the cold hard facts they would meet any crisis. That may have been true in 1860, but not today. The cold hard facts are available for all to see:
A $16.3 trillion National Debt
47 million people on food stamps
Over $222 trillion of unfunded Federal entitlement liabilities
Over $5 trillion of unfunded State entitlement liabilities
True unemployment above 20%.
True inflation above 5%.
A stock market at the same level as 1999, with a 10 year expected annual return of less than 4% – Stocks for the really, really long run. 10 year bond returns of 0% will be a miracle.
A savings rate of 3.7% and with Bernanke's ZIRP, no incentive to save. Real hourly earnings continue to fall.
Baby Boomers within 10 years of retirement have saved an average of only $78,000, and more than a third of them have less than $25,000. More than half of U.S. workers have no retirement plan at all.
A crumbling, decaying infrastructure, with 150,000 structurally deficient bridges, bursting water mains, and an overstressed electrical grid.
Horrific government public education producing millions of low functioning morons.
Rotting social fabric, with 40% of children born out of wedlock (72% of black children) and a 50% divorce rate.
An energy policy based upon unicorns farting rainbows and press releases about green energy and the miracle of shale fracking, as average gas prices in 2012 and 2011 were the highest in U.S. history.
As the pitiful excuses for statesmen in Washington D.C. pander and posture about the dreaded fiscal cliff which was purposely created by the oligarchs as a show for the masses, none of the true issues above are being addressed. The dramatic compromise that will ultimately be reached between the equally corrupt parties will be hailed by the corporate media and Wall Street shysters and an HFT supercomputer engineered stock market rally will ensue. The cowardice of these politicians is revolting. As Huxley knew in 1958, politicians and propagandists prefer nonsense and storylines to truth, knowledge and honesty.
"Human beings act in a great variety of irrational ways, but all of them seem to be capable, if given a fair chance, of making a reasonable choice in the light of available evidence. Democratic institutions can be made to work only if all concerned do their best to impart knowledge and to encourage rationality. But today, in the world's most powerful democracy, the politicians and the propagandists prefer to make nonsense of democratic procedures by appealing almost exclusively to the ignorance and irrationality of the electors." – Aldous Huxley – Brave New World Revisited
We want to be lied to because the truth is too painful. Hope and denial with a dash of delusion is the recipe the mindless masses prefer. The average person doesn't want to understand the chart below. They want to believe the U.S. will dominate economically and lead the world for decades to come. We are still the bright shining beacon of democracy on the mountaintop. Even though the facts unequivocally reveal a declining empire, the masses desperately grasp at straws in the wind. The United States share of world GDP will be vastly lower in 2021, as the hubris of declining empires never allows them to take the necessary steps to reverse the decline (Rome, Great Britain).
It is fitting that during this magical Christmas season of fantasy, delusion, debt fueled material over-consumption and fairy tales, we look at the biggest fairy tale of all – the great jobs recovery. I know from the two thousand Obama campaign commercials I was forced to watch in the last few months and 500 robo-calls at dinner every night that we've added 4 million jobs due to Obama's wise economic policies. The magical journey from a 10.3% unemployment rate to a 7.9% rate is a humdinger. I stumbled across a myriad of charts on those truth-telling websites that I had previously mentioned.
"You shall know the truth and the truth shall make you mad." ― Aldous Huxley
The first chart that grabbed my attention shows the historical relationship between the U3 unemployment rate reported to the masses versus the U6 truer picture of unemployment, along with the percentage of people unemployed for longer than 15 weeks. A funny thing happened shortly after the election of Barack Obama. From 1994 through 2008 the gap between the U3 and U6 rates consistently ranged between 3% and 4%. Suddenly, the gap surged to 7% and currently sits at almost 8%. The figure reported to the masses of 7.9% is so much easier to digest than the 15% to 17% that captures the truer level of unemployment. If the gap between these two figures had remained at the levels of the previous 14 years, the unemployment that should be reported to the masses would be 11%. That is unacceptable to those in power, so the data is massaged and the propaganda machine spins the storyline necessary to confuse and mislead the masses.
The next two charts from Mike Shedlock again reveal truths the existing social order doesn't want you to know. Even though the working age population has grown by 10 million people since 2008, the BLS expects critical thinking people to believe the labor force has only grown by 1.3 million people. You see, the unemployment rate is calculated using the labor force. If your economic policies don't create jobs, just adjust the labor force dramatically lower based on nothing. In desperate economic times, people do not voluntarily leave the workforce. Only a non-thinking drone would believe that 8.7 million Americans voluntarily left the workforce since 2008, when only 4 million left the workforce from 2003 through 2007. It is not a coincidence that student loan debt, which was taken over by the Obama administration in 2009 rose by $300 billion. Those in power have doled out these billions with no concern for credit risk or academic credentials in order to reduce the number of people in the labor force. Unemployed union Twinkie workers seeking a new career in lesbian studies can get a $20,000 loan from the American taxpayer to sit in their basement along with the 500,000 other University of Phoenix enrollees. The future $300 billion taxpayer bailout was worth it to keep the unemployment rate low enough to insure Obama's re-election.
The Obama PR machine never fails to expound upon the fact that the economy added 4.9 million jobs since January 2009. In the same timeframe, uncovered employment rose by 6.6 million. Inquiring minds might want to know what an "uncovered" job entails. Selling your accumulated Chinese crap on Ebay is an uncovered job. Calling yourself a consultant while sleeping until noon is an uncovered job. Day trading Facebook and Apple stock is an uncovered job. Trash picking is an uncovered job. The truth is that real jobs are 1.7 million lower than they were at the depths of the recession, while bullshit jobs paying virtually nothing and offering no benefits have surged by 6.6 million. These facts don't make a great campaign commercial. The number of employed Americans is at the same level as mid-2005, even though the working age population has grown by 18 million. Since 2008 there are 3 million less full-time jobs and 3 more part-time jobs. This trend is accelerating as small businesses react rationally to the oncoming Obamacare train, resulting in aggregate work hours declining and wage growth stagnating.
Zero Hedge reveals more truth about our glorious jobs recovery with the following two charts. They obliterate the false narrative spun by liberal ideologues that the reason for the increase of those not in the labor force is due to Baby Boomers retiring. The truth is that while those in the 55-69 age brackets have gained nearly 4 million jobs under President Obama, everyone else has lost just over 2.5 million jobs. Is this a positive development or a sign of extreme desperation among older Americans who have seen their interest income vaporized by Ben Bernanke and there food, energy, and healthcare expenses skyrocket?
Those in their prime earning years of 25 to 54 still have a net cumulative loss of 2.2 million jobs since 2009. Recent college graduates, with their billions of student loan debt, have nabbed 400,000 TGI Fridays jobs, singing happy birthday to 3 year olds, with their newly minted college degrees. This is the "normal" healthy jobs market sold to the American public by the propagandists and politicians.
The final jobs chart that portrays the truth of what has been a decades' long spiral downward paints a picture of a country that once created wealth through producing goods from the 1940s through 1970. Since 1970 we've degenerated into a debt creating country that consumes foreign produced goods and makes entitlement promises it can never keep. Selling houses to each other, peddling crap on Ebay, and eating out three times a week has shockingly failed to propel our economy. The jobs picture has deteriorated rapidly since 2008 and is not improving, despite the best propaganda money can buy. There is absolutely no chance of any substantive improvement over the next four years based on the policies in place and refusal to acknowledge the economic realities that we face.
The accumulation of material possessions through the use of consumer debt, peddled by bankers and reinforced through relentless corporate marketing propaganda has left the country's citizens weary, miserable, greedy, indebted and sick. Our obsession with technology has merely provided another means of distracting ourselves from confronting the dire challenges that must be addressed. We can ignore the facts but that doesn't mean they do not exist. The abnormality that grips this nation is breathtaking to behold, as the status quo cheer on and encourage consumers to buy more things with money they don't have in order to support an economic recovery that is dependent upon zero interest rates for Wall Street banks, QE to infinity, and the delusional desire for a miraculous return to the good old days when getting something for nothing was possible. We can no longer deny reality. If we want to add 30 million people to Medicaid, it must be paid for. If we want to wage never ending wars and police the world, it must be paid for. If we want a Federal government to spend $3.8 trillion per year, it must be paid for. Nothing is free in this world, but more than 50% of Americans seem to believe that to be true.
"Our economy is based on spending billions to persuade people that happiness is buying things, and then insisting that the only way to have a viable economy is to make things for people to buy so they'll have jobs and get enough money to buy things." – Philip Elliot Slater
We are seen by those in control as nothing more than common house flies caught in their web of lies. Your owners don't care about you. They only care about their own wealth and power. They want to control and manipulate you. They want to keep you enslaved in debt and running on the treadmill of consumption. They want passive, non-critical thinking drones to do the menial service jobs that remain in this country, while they use their control of our financial, political, tax, and legal systems to ransack and pillage the wealth of the dwindling middle class. The truth is the continuation of our current economic system is mathematically impossible. Your owners know this. This is why the use of propaganda, misinformation, fake data, and false storylines has taken on astronomical proportions. The time for passivity and accepting the deceitfulness of our leaders is coming to an end. While you're waiting in line this Christmas season at Wal-Mart to purchase a fabulously priced shirt that only required the deaths of 112 Bangladesh slave laborers, try to figure out how we got here. Your owners think they have you by the balls.
"They spend billions of dollars every year lobbying to get what they want. Well, we know what they want; they want more for themselves and less for everybody else. But I'll tell you what they don't want—they don't want a population of citizens capable of critical thinking. They don't want well informed, well educated people capable of critical thinking. They're not interested in that. That doesn't help them. That's against their interest. You know something, they don't want people that are smart enough to sit around their kitchen table and figure out how badly they're getting fucked by a system that threw them overboard 30 fucking years ago. Because the owners of this country know the truth, it's called the American Dream, because you have to be asleep to believe it." – George Carlin
How many Americans are awake enough to handle the truth?
All I want for Christmas is the truth.
Off the Keyboard of John Ward
Published originally on The Slog on August 18, 2012
Discuss this article at the Epicurean Delights Smorgasbord of the Diner
For information only, I copied a Sloglink to a senior contact in Goldman Sachs two weeks ago. He emailed back to say that Goldman wouldn't allow him access to the site.
In China, you can't receive The Slog. All EU addresses in Brussels and Washington Government offices ban it. It is banned from commenting at The Guardian, and Huffington Post. If you leave a Sloglink at Huffpost, it will be automatically erased. The Financial Times will not allow anyone to say 'bollocks', even though virtually nobody today would be offended by the word in a well-argued context. No Newscorp title allows any leaving of live links to other sites (The Times itself is, like the FT, behind a paywall).
If, using my own pc with its clear relationship to The Slog's identity, I Google even well-known political sites in Germany, I get redirected to an Austrian site for gays. While this suggests that even spooks have a sense of humour, it does make the flesh creep to discover that using someone else's pc allows me to get through straight away.
No member of UNITE the Union can follow Slog links in the office. Nor can anyone working for at least two big UK banks – which (if nothing else) shows that my detractors are econo-politically eclectic.
I could go on and on with the list of those who refuse to allow access to the site. I find it flattering, but above all worrying, that a site this small in the greater scheme of things is worth their attention – whoever 'they' are. Commercially, cyber-banning (and deliberate blocking) is now an industry in its own right. The Russians, Chinese and Americans lead the way in this area, as they do in the area of cyberblagging crime. Talk to any senior UK policeman off the record, however, and he or she will tell you that Merrie Olde Britannia is pretty clueless in this area.
Blacking out what The Other Side says has become one of those activities where the unthinking no longer even discuss the right of every individual to receive news of no real threat no national security. Instead, they do presentations to equally morally dead clients about 'incoming traffic purity' and other such Orwellian tosh. I think this reflects the growing trend over the last decade away from debate among equals, towards the trashing of those designated 'the enemy'. In economics, climatology, nuclear generation, social ideology, finance, and of course politics, it is a slanging match between two sets of tiny, extreme minorities, during which the rest of us remain unrepresented.
Think for a minute or two about that deadly combo of adjectives: censorious and unrepresentative. They are two of the prime requirements – along with dictatorial elite megalomania, and a distracted electorate – required for the easy creation of a totalitarian State. With the arrival of casual cyber-blocking, Britain has the full set. We're not the only ones – but we are worse than most.
This oddly mechanical approach to denying access to objective analysis produces insane combinations of policy and 'correctness'. Observations about them are waved away in a blasé manner by everyone from Dan Hannan to Harriet Harman, but they are no less real for all that. Hannan himself is an interesting case in point, in that he is both wronged and wrong. Those self-same Leftists who claim to be pacifist – and emit affected shock at the use of words like housewife or immigrant – are quite happy to call Dan 'Tory scum' and carry placards saying 'Smash the Government'. Whereas while Mr Hannan gleefully retweets everything these knuckle-heads tweet at him, he is very careful never to retweet a reasoned deconstruction of his viewpoint.
Of late, the chorus of those Slog threaders trying to put me into the cyber-banner sin-bin has become inordinately loud – dare I say, suspiciously so. Their chief inabilities are the wilful refusal to accept that first, breaking the site's comment rules with personally offensive resentment of myself and others is, um, breaking the rules. So they get banned from commenting. As I've said before, this is culling, not censoring. And second, that The Slog is genuinely unaligned with either mainstream political philosophy in the West.
At best, such is seen as indecisiveness on my part, and at worst as a lie. Put simply, if they're Left wing I'm really a closet Nazi; and if they're Right Wing, I'm just a fluffy old Leftie pretending I've changed but I'm still the same Commie bastard really. Now any even cursory perusal of the site content would tell a balanced reader that it is oligarchic, privileged and unacountable Establishments that I am against; and that what I'm for is the removal of all monied and other power influences upon the political process. But the charges continue anyway. In these cases, my tendency to ban such threaders is more often than not based on a sort of informal Mental Health Act.
Now and again, however, evidence rears its extremely ugly head (evidence is near-universally ugly, because it tends to confirm the existence of things we wish weren't there) and in the case of Troll-swarms at The Slog, there've been one or two odd patterns of late. The one that has me most worried is a correlation between comments to the effect that "You've sold out, I used to like this site but now it's obvious you're really working for Them" and the cloning of some of my now largely redundant Microsoft Outlook email addresses. (They're redundant, by the way, because Microsoft blocked my send capability after a few probing pieces about Bill Gates, anti-Trust bribes and so forth. It's all part of the same syndrome.)
My assumption is that these are all the same sender, but one is still left asking why anyone could hate a blogger so much, he would keep on going to the trouble of inventing aliases all designed to persuade regulars that (a) my facts are wrong or (b) I'm some kind of Fifth Columnist. In short, my suspicion is that the person is a professional troll – ie, he works for someone with a broader agenda. One must watch and see: at the moment, I have an open mind. But a female Blogista remarked to me recently that she suspects the same concerted attempt to spin against her.
It simply won't do to dismiss this as paranoia. The recent Bell Pottinger revelations showed how perniciously history itself was being written by some of the Bell-ends. It became obvious that Lord Bell's 'pr' company was corrupting Wikipedia entries about an Asian country whose completely illiberal and torturous regime were paying him fat fees. It has always, I'm sad to observe, been obvious that Tim not so much lacks a moral compass, as refuses one on the grounds of them being surplus to his ethical requirements. But there are legions of folks around far, far worse than Tim Bell.
Every major comms service provider on the Net now cooperates with (indeed, gives 100% unfettered access to) the security services in every country where it has a business base. Over the past seven years to my certain knowledge, we have been told so many blatant lies about the cybernation of surveillance, it is no longer valuable to point them out: people either don't care, or already know. It's roughly on the same level as saying "the EU hates democracy". For anyone even half-awake with an IQ over 80, it's obvious.
In my days as a Student (when I was a liberal, but miles to the Right of most of my peers in the Politics Department) the standard response to any rebuttal of Soviet or Maoist or Trotskyist claims was either (1) to yell "Fascist!" or (2) to describe in an intolerably patronising manner how and why one was the sadly misguided victim of Western propaganda. I remember one particular chap at the time telling me, "There are no facts. Facts are a myth. All truth is relative". He retired recently, having spent most of his working life as a foreign currency buyer for the Bank of England. So it's highly likely he still thinks this to be true.
Two things have made the reality (and potential effect) of 'propaganda' more real fifty years on…even though, ironically, the word used these days is 'virtual'. The first is 24/7 news stations, preferring as they do speed and quantity over considered analysis. The outcome of this is the vastly increased ability to tell a dramatic lie and remain undetected…in other words, for ridiculous shibboleths to become received truth. The second – less well understood, but even more Stasi-like in its ability to keep like-minded people apart and dismiss the truth – is proactive cyber truth-bending, blocking and fact invention. This is now the big growth area.
I realise I have blogged this point many times before, but please allow me to say again that, if we care more about our liberties and personal dignity than we do for political affiliation, the internet remains the home of the Real Opposition. However, if we want to have an effect on the culture and constitution of our various societies, there are in turn two realities to face.
The first is that the pressure will be more valuable if it is applied to those who fund (by which I mean bribe) the Establishment. The second is that we all need to raise our awareness of when dirty tricks are in play…and how to combat them.
Anyone in good mental health is rightly suspicious of conspiracy theories. But over the last five years, senior civil servants, MPs, globalist media owners, bankers and governments have shown themselves to be pretty adept at conspiring. And the real inequality in Western society – that placed before the law – has shown how profoundly unwilling Estalishments are to prosecute wrongdoers.
Twas ever thus, but twas never as well armed as it is today. Think on it.
Are there viable solutions and alternatives to the Energy intensive Waste Based Society we currently live in, which do not entail a return to Paleolithic levels of technology?  Diner and TAE Commentariat member A. G. Gelbert outlines a myriad of technologies which might be employed to maintain a higher technological base for society.
RE
Discuss this article inside the Diner
Solutions and Alternatives to the Waste Based Society
by A. G. Gelbert
We are cursed with a rather effective propaganda machine that defends the status quo and works mightily to provide allegedly iron clad arguments exposing our desperate dependence on fossil fuels and the enormous debt we owe to them for our 'wonderful civilization'. The media has cleverly weaved fact and fiction to present plausible arguments against the practicality of going cold turkey on fossil fuels and 100% on renewables. Not one word about the fact that fossil fuels are easy to meter and conveniently provide a constant revenue stream for the rich along with governmental control of a populace that simply cannot move or function without daily use of fossil fuels ever seems to be mentioned. Not one word about how renewables cannot be metered or taxed easily and how that feature gives everyone a large degree of independence aand flexibility in disaster situations to help themselves or a less fortunate neighbor is mentioned. On the other hand, the continuous and vociferous denial of the link between fossil fuels and environmental problems, regardless of scientific concensus on this very real link, never seems to go away either. The actual history of the industrial revolution involving some very brutal measures to coerce humans to abandon horses, as only one of many coercive measures, for tranportation and farming are always ignored and replaced with a stream of pejorative comments about horse dung in big cities. People did not want to get rid of their horses! I am not simply talking about city ordinances and fines targeting horses. Right around 1865 a big push began to sell farm machinery. Amazingly, a huge horse plague hit the U.S. that year that killed a massive amount of horses. No explanation beyond "Civil War stress" blarney was ever given. These horses were not just city horses in population centers but out in the country as well.
The move to horseless carriages began on the farm with steam power and hydrocarbon lubricants. The automibile came later along with the bone cancer. Bone cancer from the original automoblie fuel, benzene, is seldom mentioned by the media and apparently is considered no big deal in comparison to horse shit odor. Moving on to the early 20th century, Rockefeller has a waste product in his refinery cracking towers (after separating all those great heavy and light lubricants) called gasolene and he talks Henry Ford into modifying the carburators to run on it. Of course the 'minor' problem with benzene fuel may have helped make the switch. There were electric cars on the road at the time. Cleveland had wind generators creating electricity at that time! You'll never guess what happened to them and the electric trolleys all over many towns in the USA. So, enough of that. Everyone here knows how predatory capitalism attempts to game the system to achieve price control and a monopoly. Once much more efficient and sustainable technologies are shoved aside by hook or by crook, the distorted and mendacious meme that our current technology is the result of friendly capitalist competition in the 'free market' is pushed. Predation occurs followed by propaganda versions of history. That is the real history of the industrial revolution in regard to our choices of energy production. Renewables got squeezed out, not because they couldn't compete favorably, but because the pollution and health costs of fossil fuels got 'externalized'. Along the way, the independence of the mostly agrarian American in energy production and use was crushed.
A love afffair with the car was fostered to the point that in the late 1920′s more Americans had cars than flush toilets. Of course they were better off, ecologically speaking, without flush toilets, but the point is the job of selling Americans on fossil fuels was a done deal by that time. So please remember that nobody was doing us any favors, like the media wants to claim; they were selling us something in order to concentrate wealth and power in a few hands. They were using us as a cash cow to the point of introducing planned obsolecence, rampant consumerism to keep the factories going and simultaneously thwarting moves to sustainability like Henry Ford's plan to make cars out of hemp plastic in the early1940s. We like new stuff and are always looking for the latest model year of the car or whatever because we have been manipulated by experts to do so. It has absolutely nothing to do with our health, well being or happiness. Bernays really messed us up. Fast forward to the present where the witches brew of ecological harm brought about by industrialization has caught up with us. And NOW, all of a sudden, we just can't live without all this 'wonderful' energy packed fossil fuel economy.
Methinks somebody wants to slap a guilt trip on the chumps so they agree to clean up the mess even though the media keeps claiming there isn't really that much of a mess. We, the masses, are accused of being wasteful pigs that bred like rats thanks to fossil fuels.
Where to begin? How about the fact that family size has been decreasing, not increasing, througout the industrial revolution? That's right. The numbers were baked in by 1800 and the wars slowed them down a bit. Louis Pasteur and Lister did a hell of a lot more to create our present population 'problem' than fossil fuels. Most of the key scientific advancements in medicine were not exactly high tech and fossil fuel dependent. A human makes it past 5 years of age and he has a huge chance of living out his 3 score and ten. It was the enormous reduction in infant mortality brought about by antiseptic procedures that caused the population explosion, not fossil fuels. It's a stretch to say that fossil fuels alowed people to obtain clean water to wash their hands before delivering a baby, but I'm sure the media verbal contortionists would toss it out there to further muddy the waters of historical truth.
The much touted plumbing advancements that require machinery and factories powered by fossil fuels, while they did reduce disease in population centers and prolonged life, were setting us up for more fossil fuel use through improper humanure handling. I maintain that the main cause of our population explosion is knowledge of disease microbes, their propagation methods and our changes in hygiene as a result.
What about all this waste we now produce that we have been folded, spindled and mentally mutilated through Freud's nephew Wall Street amygdala reptilian brain control propaganda? They set us up and now WE are the bad guys? They want us to shop till we drop and WE are the problem? And how much 'waste' do WE actually produce on a carbon footprint basis compared to the global 1%?
Well, Senator Bernie Sanders stated recently that less than 1% of the U.S. owns about 40% of the assets (I'm not talking about income increases although they have gotten the lion's share over the last ten years as well). Yes, I know he talks about banks too but he mentions those 400 or so elite families every now and then. Now figure the carbon footprint of those people and compare it with the rest of us. All those endless films about diapers, milk gallons and so on used in our middle class lifetimes with the obligatory landfill mountains thrown in are nothing compared with the horrendous and gigantic amount of crap these families generate. Isn't it amazing that when it comes to pollution and wasteful habits, we are 'all in this together'? No attempt is made to segregate out the worst offenders. On the contrary, the poor and middle class are constantly demonized as being irresponsible useless eaters. It's all quite Orwellian on the part of the media.
But yeah, we do waste and we have a waste problem that is real so let's talk about it.
Waste can certainly destroy a society, species or most of the ecosphere if, as many point out, we continue with the ridiculous paradigm that we can industrially do multi-generational damage to the life support systems humans depend on and not define this as suicide. It's almost like our nuclear nuts and oil fetish fucks have morphed us into a mass version of the heaven's gate cult. Those people thought they could hitch a ride on a comet by commiting suicide. Every single step in industrializaton has, for anyone willing to do the TOTAL math, NOT been ecospherically cost effective. The fact that a small group of humans has temporarily benefited at the expense of the overwhelming majority of humans and all other earthlings right now, not to mention the obvious acceleration in environmental degradation promising a super bleak future, seems to go right over the heads of way to many otherwise intelligent people.
Just like the heaven's gate cult, people are addicted to a dream that never was, PERIOD. All talk about this and that from our youth and how much fun we all had and how nostalgic we are for those nicer times is the exact same phenomenum of a drug addict longing for his first high. LISTEN UP! We are a function of the ecosphere. We DO NOT, despite all the best propaganda efforts of our scientific community, understand the mechanism of the ecosphere sufficently to tinker with it, let alone wantonly pollute it with "externalisms". EXTERNALISMS!? That's just some economist bullshit! There are NO externalisms inside the life bubble called the ecosphere; it just takes a while to catch up with you when you mine, bomb and toxify with chemicals NIMBY areas for a few centuries. We are there and yet our scientific community and our financial community and our political wheeler and dealer con-artists with their new techno death toys and 'miracle' GMO crops and drug after drug to replace patent expirations, new ripoff scams, more war profiteering and emotional button pushing divide and conquer racist crap just DO NOT GET IT (or maybe they do get it and are insanely trying to make hay out of it).
The people in charge of our dysfunctional clusterfuck are akin to that psycho Whiteapple that led the heaven's gate cult. They will not change to a sustainable paradigm because THAT requires subordination to the reality that we are a product of the ecosphere and the humble acceptance that we do not understand it yet so, until we do, we must henceforth emulate natural processes of cradle to grave recycling in all industrial technology and outlaw destructive activities like war or perish. No, they prefer to insanely reduce the world population by environmental collapse in the ridiculous la-la land elite hope that then the ecosphere will cure itself and they can continue their merry resource extraction paradigm as if nothing happened. It won't work because these reductionist morons in power with their scientific priesthood of techno nut balls are so full of pride from all their tremendous 'contributions' over the last two centuries that they cannot see the monstrous downside of the technology explosion and that, yes, technology can be developed and used in an environmentally friendly manner. They don't want to do the work. They are supremely irresponsible and supremely greedy and incredibly stupid.
Instead of doing a rethink, they are just flooring the accelerator and increasing their propaganda blitz.
I am not against technology. Since about 1970 we have had the knowledge to use technology to produce an environmentally friendly and sustainable society free of poisons in food and industry in the scientific literature. It has been deliberately supressed time and time again. Imagine what it cost to cover the country with roads and power lines. Well, decentralized power, food and transportation would cost a hell of a lot less. It's total bullshit that we can't do this or that we are 'hooked' on oil or nuclear or natural gas. We could have switched away decades ago. In the 70s NASA used solar panels to bring electricity to a Navajo community which was not served by the local electric utilities in a southwestern state. It worked great and the utilities went ballistic. They wrote to NASA requesting the solar panel project be stopped because, even though those areas targeted by NASA were not adequately served by the utilities, the fossil fuel free energy would 'force' the utilities to lower their rates. NASA stopped the project.
The planet earth DOES NOT have an energy crisis. For you engineering types out there, just do the math on the energy required daily to lift trillions of tons of water vapor out of the rivers, lakes and oceans and deposit this at higher elevations in the form of rain and then try to tell me about how much it COSTS (ZERO!) and how we are running out of energy. What the planet earth has, is a HUMAN GREED AND STUPIDITY crisis among the 1%. But suppose we could dispense with all the agenda laced perjorative propaganda about renewables, agree to clean up the planet and eliminate fossil fuel, nuclear and any other kind of poisonous technology because we have no other choice?
Can it be done? Yes. Will it be done? Probably not. I just heard today (June 11, 2012) on the Thom Hartmann show that phytoplankton replacement in a bay in Maine has dropped 500% over a period of a decade or so. The phenomenum has now been confirmed as occurring globally. Phytoplankton produce approximately 50% of the oxygen on this planet through photosynthesis. They are not regenerating adequately because increased ppm of CO2 (now 400 ppm) is acidifying the oceans and killing them. Can the elite be so insane that they plan to meter our oxygen? I hope not. At any rate, we must accept that the fossil fuel economy is not an exercise in fun conveniences or a requirement to maintain 'civilization'; it's killing our oxygen supply now as well. We must switch to renewables.
In regard to available energy to maintain some level of 'civilization' with renewables, when I mentioned the world evaporation energy example,  I wasn't alluding to energy collection through hydroelectric power (although dams certainly help as long as salmon runs aren't thwarted), but using this vast amount of energy available free to shed light on the scientifically bankrupt view of quantifying energy by using bomb calorimeters like we did in college and energy mass per mole in rapid oxidation. Nature has never done it that way. Everything in our culture always wants to scale up a process or else judge it as wanting. That is assbackwards from a sustainable biological process point of view. In our bodies, the reason we have enzymes lowering the energy of activation in myriad chemical reactions occurring per second is to keep us from overheating and/or rapid ph changes that would kill us but the fact is that the enzymes accomplish a task with less energy than a straight forward math computation of the chemical reaction energy requires.
Capillary processes in us are unconcerned with "stream head'" like scientists or engineers are when they want to build a dam yet they work just fine manipulating Bernoulli forces to use the absolute minimum energy needed to move that blood so the heart pump doesn't have to work as hard against vessel friction and pressure changes. In our techno-love affair, everything we do is geared to centralized and maximum power. For example we really do not need a lot of stream head to power a house because we can gradually pump water up to a reservoir in our house to give us electricity on demand. But the techno math says you need X amount of head for Y amount of kilowatts. That's only true if you need all of that all the time. Sure, not everyone lives by a river or a stream but that is simply a small example. A giant Sequoia pumps over one hundred gallons of water hundreds of feet up every day through transpiration. The tracheal elements can stretch water molecules 27 atmospheres as long as the vacuum holds. The technology to make artificial tree water pumps has been around for decades but our society is STUCK on the energy density per mole fixation like a teenager that wants a hot car to ride to school instead of a small electric rechargable scooter.
Have you heard about the roaring forties? That's an area of latitude in the oceans of the southern hemisphere that is always turbulent. They alone could power the world's energy demands after a ten year installation of wave and undersea current power collection systems that are already being deployed off of England and Scotland. In regard to corrosion issues with sea water and maintenance of deep water (massive pressures to deal with), I only ask that you consider technology equivalence hurdles that have long since been surmounted in nuclear power plants (the ultimate in corrosion challenges including hydrogen embrittlement that is not present with sea water) and oil undersea pipelines (pump sea water to a land reservoir and start the power cables from there as a cost effective low maintenance option). At present, ocean oil rigs (which are mostly metal) have sacrificial anodes placed on them so electrolysis in most areas is thwarted. The anodes are replaced as they are used up.  And remember all we have learned through space exploration about metallurgy, high temperature insulation during re-entry and don't forget microwave power transmission technology. We can do all this stuff. It's really not as hard as putting a robot vehicle on Mars or building a space station in orbit.
It's telling that Einstein described the photoelectric effect at the very beginning of the 20th century but the US government has had to be dragged kicking and screaming to develop solar panels (we only did it when we needed them in space) but it spent a fortune on the development of the bomb in the 30s while a large part of our populace was going hungry.
Have you ever wondered why the oil lobby never attacks nuclear power but spares no expense to demonize renewables with disingenuous propaganda and mendacity? Think about that a while. If you come to the conclusion that the nuclear power plants were put out there to make bomb material and get you to pay for it and were never, ever considered a viable alternative to fossil fuels for the production of electricity or a serious source of oil lobby competition, you win the prize.
There is also no excuse whatsoever for not using solar and electric power to run every single ship in the ocean. It would be child's play to switch all automobiles and trucks to full electric as long we had geothermal, wind, tide and ocean current derived power 24/7, not to mention solar panels.
Do you know what oil tankers do after they offload the oil? They fill huge portions of the holds with sea water (for ballast) and then dump it when they get back to reload with oil. This massive pollution goes on day in and day out. We have a guaranteed continuous oil spill as long as we have a fossil fuel ocean tanker economy.
As for fertilizers and food production machinery requiring a massive amount of fossil fuels to feed 7 billlion humans, the fact is that using decentralized permaculture with humanure (after appropriate and low tech local processing to avoid disease pathogens) along with greenhouse technology for nordic climates can replace the fossil fuel required to run tractors, make fertilizer and insecticides and herbicides. I mention farm machinery because there is increasing evidence that plowing needs to be replaced by non-plowing with perennial crops in order to stop the massive top soil loss and lowered nutrition of crop yield (they look the same but don't have the same nutritional content). Other posters here are up on humanure and they are right. I recommend anyone repulsed by this to think again. Feces are an inseparable part of being human and it's high time we stopped with this Victorian idiocy of seeing it as bad stuff; it's part of our salvation as a species. An added plus with humanure through the avoidance of chemical fertilizers is no more ocean dead zones and massive top soil degradation. Also the energy and water savings in not pumping human waste to be treated with chemicals (made with fossil fuels) in a sewage treatment plant would save billons of dollars.
Examples of how renewables can switch us off of fossil fuels  quickly: www.euronews.com/2012/05/27/germany-breaks-solar-energy-record www.euronews.com/2012/06/06/solar-plane-completes-maiden-intercontinental-flight www.euronews.com/2012/03/05/sea-solution-to-future-energy-needs www.telegraph.co.uk/earth/energy/renewableenergy/3535012/Ocean-currents-can-power-the-world-say-scientists.html
Pelamis wave power device that looks like a giant snake: www.weirdlyodd.com/10-renewable-energy-sources/
Zero energy balance hotel: www.euronews.com/2012/05/16/go-green-get-growing
I think this can be done in TEN years, not forty: www.euronews.com/2012/05/18/in-40-years-every-home-every-building-will-be-a-power-plant-says-jeremy-rifki
Growing food and the fossil fuel 'requirement' is a dependency created by the fossil fuel industry but we CAN shake that dependency without mass starvation and depopulation: www.greenlivingtips.com/articles/85/1/Fuel-and-food.html
"The strategic goal of biofuel is to supplement or even replace fossil fuels, the amount of which is constantly and rapidly diminishing." haitireconstruction.ning.com/page/biofuel-1
I've already mentioned my views on the population explosion and its causes but I wish to point out how the oil lobby has tried to make fossil fuel brownie points out of it.
Remember the green revolution of the 60s, 70s and 80s that supposedly caused the population explosion? The numbers are in. The yields are not statistically different with all the fossil fuel fertilizer, herbicides and insecticides than without them. The green revolution is a lie fostered by, you guessed it, the fossil fuel lobby. Their only valid claim is the fuel for machinery which now turns out to lower crop nutrition from top soil plowing degradation. This degradation is caused by a combination of chemical fertilizers and plowing (bare soil tends to blow away when dry or erode when wet) which leaches the soil of trace minerals needed to produce nutritious and tasty as opposed to bland crops. The way things stand right now, agricultural guidelines in the U.S. state that it's okay to lose 4 tons of top soil per acre per year from 'modern' farming techniques. The government claims it is the price we pay for high 'yields'. Are you comfortable with that? I'm not. Considering top soil regeneration takes over 100 years, I cannot believe we are doing anything but losing massive amounts every year.
And last but not least, the militaries of the world are the most voracious users of fossil fuel. We sure as hell do not need them to keep 7 billion fed and clothed. The U.S. Navy, in particular, has the top spot as fossil fuel user AND polluter.
We need gradual, decentralized trickle charge or slow pumping energy storage systems for sustainable humanity. Anything else is not viable for the planet. If we want to zip around at high speed and be able to have instant this and that, yes we have an energy crisis. If we want to emulate biological processes and eschew the love affair with higher energy density per mole of fossil and or nuclear poisons killing the planet, we don't have an energy crisis.
Nature paces everything; so should we.
All that said, there is the 1% with their hubris and arrogance and there is the rest of humanity. The agenda of the 1% is a tad different from the rest of us. I agree the knockdown is coming. The people controlling the levers of innovation and adaptation in our governments and the elite parasites that own them want this knockdown so it will come. I maintain that the false notion of a causal relationship between a large population and a polluted, unsustainable, fossil fuel dependent human society is the driving force behind this elite desire for a knockdown. The elites are the only truly unsustainable population on this earth because of their mega-carbon footprints. So, in true Wall Street Orwellian fashion, they blame the bulk of the 7 billion humans for THEIR piggery and slavish dependency on fossil fuels. The 1% that owns our governments loves the predatory resource extraction paradigm despite the fact that some of them probably suspect that it will cause a population knockdown, not from lack of fossil fuels, but from environmental collapse. Billions of humans dying is considered a good thing by the 1%. They think it will solve the world's environmental problems and provide a more manageable population of slaves. The 1% probably grumble about minimum gene pool diversity species population required in order to perpetuate homo sapiens. The 1% think robots will take care of all the 'important' work while medical technology available to the 1% will provide them with 150 year plus lifetimes. They are wrong and they are the cancer that is destroying humanity.
There's a way to clean up this world and live sustainably. Killing off several billion is a straw man. It's typical elite bullshit adding two an two and getting whatever answer keeps them in the catbird seat. The media will continue to block the truth from the people 24/7.
I apologize if I tried to cover too much ground here but this situation we are in has matured for well over a century and we need to see how we got here to understand, if we survive, how to prevent a new set of snakes from selling us snake oil in the future.
Feel free to pass all or any part of this rant with or without attribution. Everything I wrote can be researched free on the internet if you want to post links about horse plagues, NASA correspondence with utilities, Henry Ford and hemp plastic, Rockefeller chicanery, U.S. solar panel development reasons, Americans starving while the bomb was being developed, Bernays propaganda tools, etc.
A.G. Gelbert