Off the keyboard of Monsta666
Discuss this article at the Money Table inside the Diner
Monetary terms
The terms below should prove useful in understanding the content of this article:
Anchor/Reserve Currency – Is the currency that is most commonly held by foreign central banks as reserves and is most commonly used to settle accounts when trading for vital commodities such as food/oil etc.
Fixed Exchange Rate – Sometimes referred to as a pegged exchange rate. A fixed exchange rate means a currency is priced at fixed range to another currency most commonly the reserve currency. Fixed exchange rates offer price stability to exporters but this comes at the expense of the country being unable to alter its competitiveness, in terms of exports, on the world market. A fixed exchange rate also leaves the country open to speculative attack meaning the country's central bank must defend its exchange rate using foreign reserves. Notable examples of a country failing to defend its exchange rate occurred in 1992 when the UK failed to defend its rate in what was to be later dubbed "Black Wednesday".[1]
Floating Exchange Rate – Is when a currency is openly allowed to be traded in the foreign exchange market. A floating exchange rate allows the currencies to become more or less competitive depending on market forces but comes at the expense of greater volatility in currency prices. This issue of volatility is problematic for less developed countries and it is this reason why they tend to favour fixed exchange rate policies.
In part 2 and part 3 we established not only the basic mechanics of the monetary system but also that all major currencies are debt based. Moreover due to the component of interest the total level of debt will always exceed the money supply of an economy. It is this property that means that long-term stability can only be assured if there is continued growth in the money supply and for this growth to remain viable it requires that the growth in the overall economy i.e. wealth increases in lockstep. Since resources and ultimately wealth in the planet is finite it follows that the balance between money and wealth will eventually fall out of sync and we will be faced with a situation of too much money (hyperinflation) or too little money (deflation). This part of the money/wealth series will attempt to answer the question of what scenario is more likely.
Main article
It is perhaps logical to think that if the rate of wealth extraction (GDP) declines and money supply increases then the obvious conclusion would be that hyperinflation would be the inevitable end-point as the number of claims on wealth (money) would vastly exceed the amount of actual wealth available in the economy. While such a conclusion sounds plausible it is important to consider that hyperinflation is only a relative measurement. That is the value of the currency can only diminish relative to something else so when making such statements it should be made explicit what the currency is hyperinflating against. In light of this it is best to make a small detour by explaining the International Monetary System and the one remaining function of money that has been neglected up to this point which is:
Relative valuation mechanism: Money acts a means of putting a numeric value to every good or service in the economy.
While this function may seem patently obvious the act of adding numeric value to each good or service greatly facilitates trade. To understand why this is the case it is best to consider a situation where no money exists. In a less developed community with no money the main means of exchange would likely be barter. The issue with barter is exchange rates for each item must be made so if we had carrots, tuna and milk we would need to devise an exchange rate for each combination of item i.e. 5 carrots = 1 tuna, 1 tuna  = 3 litres of milk, 1 litre of milk = 1 carrot. While this system of barter maybe possible with a low number of items once the number of goods or services on offer increases then it becomes exceedingly difficult to maintain valuations for all items as all the possible combinations for trade become staggering high even with a modest number of items to trade for.
This issue becomes especially problematic if the availability of some items is very volatile (say some items go in and out of season). Moreover if there is a large degree of trade taking place it will become necessary to keep a number of goods in reserve as some goods such as tuna would be more easily bartered for certain goods while in other circumstances carrots maybe needed to barter for other items.
As we can already see the system of barter is quite cumbersome and the costs of storing all those reserves and maintaining exchange rates for dozens maybe even hundreds of items for future trade create addition costs than can quickly become prohibitive. It is this reason why most communities – once reaching a sufficient size – develop a monetary system as money serves to add numerical value to all items in question eliminating the need for constant reserves and constant revaluation of exchange rates.
As it happens this system is not only useful on a national scale but is especially important when it comes to the matter of international trade where the reserve or anchor currency serves the same function of "money" as it does with a small community described above. For the same reasons mentioned above, it would be impractical for every exporting nation to trade their domestic currency in exchange for each nation it happened to import into. If this method of trade occurred then every nation would need large amounts of reserves of every currency it happened to trade with and this dynamic would suffer the same inefficiencies as highlighted earlier. To avoid this issue a reserve currency has been established and all nations settle the vast majority of international accounts using that reserve currency. As a result all major central banks hold this currency in their reserve (hence the name). If we look at the chart below we find that there has always been a reserve currency and this dynamic has occurred for hundreds of years: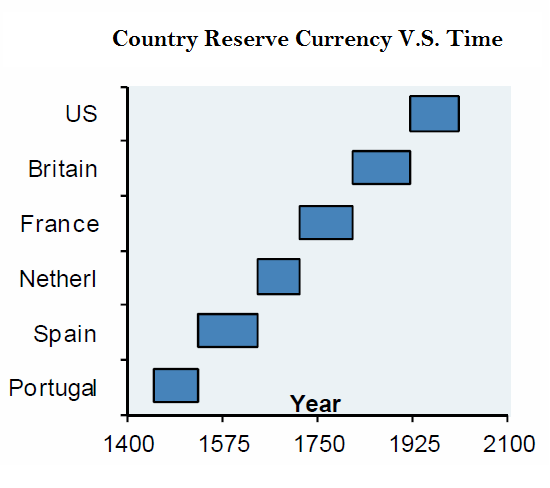 Bretton Woods System
In 1944 when the US officially became the world's reserve currency with the establishment of the Bretton Woods system as it was clearly the most creditworthy and powerful nation in the world as all its former rivals literally lay in ruin.
In this particular incarnation the reserve all other foreign nations had their currencies pegged to the dollar at a fixed exchange rate. The dollar could then be redeemed for gold and $35 was enough to acquire one troy ounce of gold. This dynamic would continue until August 1971 when Richard Nixon closed the gold window making the dollar a fiat currency. 
So how do countries decide on which currency becomes the reserve currency of the world? Generally a currency gains reserve status if it is the currency that belongs to the largest and most creditworthy country in the planet.
While there are definite benefits to having a reserve currency there are clear weaknesses with this system. This weaknesses stems from the fact that if a reserve currency is decided upon then the demand for that currency rises significantly as not only is the currency used for domestic purposes but foreign nations will demand enormous quantities of this currency to settle international accounts. In fact in many cases these international settlements will not even directly involve the country that holds the reserve currency. This large demand creates a strong incentive for the nation holding the reserve currency to overspend and run large deficits so it can supply other nations with the necessary reserves (and liquidity) to allow them to trade. Indeed after only 15 years of the Bretton Woods system being established Robert Triffin made the following observation:
"If you choose a currency because it's a strong credit, and then give the issuing nation a financial incentive to borrow and print money recklessly without penalty, eventually that currency won't be the strongest credit anymore!" – Robert Triffin, 1959
This statement would later become known as Triffin's dilemma. It was this overconsumption and the subsequent over-indebtedness caused by this consumption that ultimately led to the demise of the Bretton Woods system. Despite this demise however the dollar retained its status as the reserve currency of the world. So why did this happen? As stated earlier the chief reason for this system being implemented in the first place was it facilitated international trade by making it far more efficient so despite its obvious flaws, weaknesses and privileges it bestows to the nation holding the reserve currency the system was maintained for this reason. The other major reason for the dollar maintaining its reserve status was the simple fact that there were no viable alternatives that could supplant the dollar and this fact remains largely true even today.
As time went on another problem became apparent and it centred on large exporting nations such as Germany, Japan the OPEC nations and more recently China. The most obvious and perhaps logical action is to think that foreign nations who received dollars for their exported products would sell the dollars they received from their exports in exchange for local currency via their central banks. However if this actually happened then it would have terrible consequences for the export nations future competitiveness. This is because the act of selling dollars would not only cause the value of the dollar to decline; it would also cause their own local currency to appreciate in value relative to the dollar. If this continued then over the time the value of the exported goods would become more expensive and reduce the nation's ability to export further products.
The solution to this problem was for the central banks of the exporting nations to hold onto the dollars it received from the exporting company and then issue those companies with newly printed money in their domestic currency. Over time however the amount of dollars these central banks held became substantial and so they invested those dollars back into the US economy with the most obvious target for this investment being US treasury bonds. By doing this the exporting nation avoided the problem of an appreciating currency. This dynamic however had the side-effect that an artificial demand for US bonds was created resulting in the rates the US pays for its debts being kept artificially low. This then encouraged the US to spend beyond its means even further as their lack of financial discipline was not punished with higher interest rates as would occur with other nations. This ability to go into debt without incurring any cost became known as exorbitant privilege and is an advantage that no other nation enjoys.
So why did the export nations such accept this dynamic for decades even though they knew the US was becoming increasingly over-indebted, less creditworthy and generally less financially stable? There are several reasons why this dynamic has persisted but one of the reasons could be the simple fact there was no real challenge to the US dollar. Other reasons would be the strength of the US military and influence in international diplomacy meant that many countries were frightened to not challenge the status quo.
Perhaps the most significant reason for the US retaining its reserve status however may lie in the fact the US insured that all oil is traded in dollars. The US clearly understood the benefits of this exorbitant privilege and wished to maintain it even after the demise of the Bretton Wood system. To achieve this they had to ensure that people had to use the dollars to obtain some vital resource and that resource was oil therefore by linking the dollar to oil the dollar gained petrodollar status. To insure petrodollar status however the US had to make an agreement with various Arab nations that if they kept trading their oil exports in dollars they would receive their "protection" from attack. The Arab states agreed to this agreement and have traded their exports in US dollars ever since. This agreement to trade in oil can offer a possible reason why the US waged a war against Iraq as it was said that Saddam Hussein wanted to trade Iraq's oil exports in Euros and if successful this would have posed a clear threat to the US's exorbitant privilege and general hegemony of the US dollar.
How is this related to the deflation/hyperinflation story?
So the question maybe asked why this detour was necessary in the first place. The reason it is important to understand the international monetary system is because by realising how the system operates we can begin to appreciate that the reserve or perhaps the more appropriate term: anchor currency is the currency which all other currencies base their value on.
Considering the anchor currency is the dollar then this means all other currencies gain most of their value by how they are valued relative to the dollar as the dollar acts as the lynch pin to the entire international monetary system. In other words, if the dollar were to hyperinflate then the international monetary system would have no benchmark for other currencies to base their value on and so it would be likely that other currencies would have to hyperinflate themselves to maintain relative valuations to the dollar or more likely global trade would collapse. To understand this phenomenon more easily it is best to offer a hypothetical example.
If we consider the dollar to hyperinflate then it must hyperinflate relative to something else. This would most likely be the Euro the Yen or a currency held by an OPEC member. It can be either one; it does not matter. If the dollar hyperinflated against the Euro then the competitiveness of the Eurozone exports would decline to roughly zero as anyone trading in dollars could not afford to buy them. This lack of competiveness may be obvious to see in terms of US customers being unable to afford Euros as the dollar would be worthless but why would it be bad news for trading with other countries? This is because a considerable amount of international trade is settled in dollars and if the dollars themselves are worthless why would the vast majority of exporters continue to accept payment? It is likely they would refuse payment and so trade would drop dramatically (it can be noted that such an event would be highly deflationary as a collapse of global trade would render many companies insolvent). Now the only way trade could continue to remain viable is if the Euro reduced the value of its own currency rapidly to maintain some parity to the hyperinflating dollar. By doing so its exports could remain competitive and exporters can gain some value from their dollar denominated exports although the rapidly changes are likely to bring about its own issues.
It is this property in the international monetary system that almost guarantees the dollar can only hyperinflate once all other major currencies have already done so. The only scenario that can prevent this from happening is if another currency replaces the dollar as the anchor currency. However this seems rather unlikely because most currencies have generally moved from a fixed exchange to a floating exchange rate. This movement is significant because in the past when more currencies had a fixed exchange rate they held more foreign currencies in case they needed to "defend" their currency to keep it within its fixed exchange rate. By not having a fixed rate then there is no such need to hold these reserves which results in the currency fluctuating over a wider range. This however makes it harder for currencies to move towards a new reserve currency as they need to build more reserves of the new future currency.
On this topic of reserves it is instructive to look at the distribution of currencies held in reserve to see what the most viable alternatives for a reserve currency are:
Foreign reserve figures obtained from the International Monetary Fund.[2]
 As we see the only other currency that could realistically supplant the US dollar is the Euro and as off 2011 just under 24% of all foreign reserves is held in Euros. It remains questionable however if the Euro will actually take over the dollar considering the on-going Euro crisis that is making foreign investors question the future stability of the Euro. Indeed many of the developing countries are shedding their reserves of Euro at a tune of $90 billion since 2011.[2][3] If this trend continues, and it seems likely that it will, then it means the chances of the Euro gaining sufficient worldwide confidence to become the next reserve currencies are slim. If the Euro cannot displace the dollar and become the new reserve currency then it is unlikely any other currency will in the foreseeable future seeing as the next largest reserve currency is the Pound sterling which only makes up around 4% of the world's reserve currency.
The other popular suggestion for a successor to the dollar is the Chinese Renminbi (RMB) however there are several issues China would need to address in making the RMB a viable contender to replacing the dollar. First it must allow the RMB to be fully convertible so investors can move money in and out of the country easily, second there needs to be greater access to its domestic stock/bond markets which foreigners are largely barred from taking part in. Once these barriers are removed then it can be viewed as a more serious contender but even then the Chinese would need to address the issue of a lack of RMB in the world market. To increase the amount of RMB outside of China it would need to run a trade and capital deficit (as the US did) which is a complete reverse of what policies China is currently undertaking. Due to these reasons it seems unlikely China could become the reserve currency in the foreseeable future. For more information on this matter it is recommended to read Patrick Chovanec's article which summarises the issue quite nicely.
This all leads back to the situation that the most likely scenario is the dollar will maintain its hegemony over the world market and so because of this the chances of it hyperinflating will be low until the other major currencies collapse first. It is possible however that another major currency such as the Euro could hyperinflate and this collapse could cause the dollar to hyperinflate as the breakdown in the European banking system may trigger a collapse in the global trade rendering the dollar useless outside its domestic market.
Before drawing such conclusions however we must consider the inflationary and deflationary currently at work. On the one hand we have various central banks such as the Federal Reserve with their open ended $85 billion a month QE program and more recently the Bank of Japan following suit with their own $43 billion a month program.[7][8] These programs have created some inflation but only in the assets market and have had a minimal impact on the general economy; this particular issue was addressed in part 2 of this series. The other possible inflationary forces would be in the case of underlying wealth in the economy declining while the overall money supply would increase thus creating a large inflationary force. This inflationary force has been the main driver of inflation in the general economy and as energy prices have risen so has the cost of producing goods/services.
Speaking of energy it is useful to note that in the build-up to the 2008 financial crisis the price of oil shot up to $147 a barrel and these high prices likely played a significant role in triggering the financial crisis that was highly deflationary. These deflationary forces occurred because a large number of bankruptcies meant that a large amount of the money supply was destroyed as debt had to be removed from the balance sheets of various banks. Mass layoffs reduced spending and these combination of factors caused not only the price of oil to collapse to $35 but it also caused large scale declines in various assets prices from real estate to stock and even bond valuations.
It seems likely that another run up in prices in food, energy and oil prices will likely trigger similar events in the future and unless the inflationary forces are stronger than this then the most likely scenario is for a deflationary end-point. This scenario does assume however that the various central banks will not resort to "naked printing" i.e. giving money directly to consumers to spend. Which is a big assumption to make and it is very possible that if a country's sovereignty faces an existential crisis then it is very possible they may resort to measures such as naked printing or money printing directed towards large government projects that will prove highly inflationary. Moreover it is very possible for currencies other than the dollar to face imminent hyperinflation once the world markets lose confidence in the currencies viability.
Summary
In the story of hyperinflation/deflation it is important to note these terms are all relative. If a currency hyperinflates or deflates it always does so against some other currency. Moreover for an event such as hyperinflation to take place it requires that people can take their currency and transfer this money into something of perceived value; which will be some other stable currency. This explains why governments always add capital controls during periods of high to hyperinflation as it makes peoples' job of moving their money that much harder thus reducing the rate of inflation.
To demonstrate this last point let us consider a recent case of a currency collapse. In the case of Zimbabwe in 2009 the people of Zimbabwe could transfer their wealth to an object of perceived value, in this case the dollar.[4] In the event of a dollar collapse however it is difficult to envision such an option being available as the value of wealth held in dollars is not only much higher but the amount of currency (say Euros, gold etc) is unlikely to be available in sufficient quantities to hold all this perceived value. If people cannot transfer these dollars into any other asset then hyperinflation cannot take place. Seeing as a collapse of the dollar would also cause global trade to decline massively it becomes even harder to see how hyperinflation would take off as assets and currencies across the board would be affected. In other words there would be no place where wealth could be reliably stored and maintained (which was not the case in Zimbabwe). It should also be noted that if global trade were to collapse then there would be many bankruptcies and most significant bankruptcies of major international banks. As was hinted on in part 2 of this series many of these banking institutions hold derivatives that are worth hundreds of trillions of dollars.[5] If these contracts were not honoured it will lead to a significant perhaps catastrophic deflationary event. In any case though even if the dollar hyperinflated then the value of the other currencies would quickly diminish as their profits from exports would quickly plunge to zero due to massive currency appreciation against the dollar.
The other possible "run" on the dollar could be into precious metals such as gold but even this is unlikely to create hyperinflation either as there is not enough gold to absorb all the lost value from the dollar. This issue becomes even more problematic if we consider that gold ownership is more concentrated than ownership over actual dollars. Moreover such runs are likely to be prevented either through high taxation of gold related transactions or outright confiscation of gold as happened during the Great Depression.[6] In addition to all this if there is a collapse in global trade the amount of goods/services in circulation would greatly diminish so the amount of real wealth in the economy would drop while the amount of gold in circulation would remain the same. If the money supply (in this possible case gold) remains stable while real wealth drops then this will create inflation as the claims are not following the rates of shrinkage in the underlying economy.
With all that said a great deal of caution must be exercised. These matters are far from certain and it should be recognised that at best everything said is informed speculation. We also need to acknowledge there is a good probability that the government can bring in some monetary policy that is highly inflationary particularly if their very existence is under threat. Then there is always the possibility of a black swan event that can change the outcome of the world economy quite markedly.
A war between Iran and Israel or a war between North and South Korea are possible examples of black swan events. In the case of an Iran-Israel war oil pipelines could be destroyed creating such havoc in the oil markets that would likely cease to function making international trade very difficult. A lack of confidence in receiving goods/services could see large exporters dumping their dollar reserves in mass leading to the dollar hyperinflating.
Black Swan Event: A low probability high impact event. Such events often take people by surprise however it is actually quite rare for a true "black swan" event to occur as often the event can be accurately predicted years in advance if people scrutinise data thoroughly in an unbiased manner. The last commonly stated black swan event would be the 2008 financial crisis as claimed by various neoclassic economists.
Assuming such events do not transpire however it seems inconceivable that the dollar could hyperinflate unless the government decided to hand people open checks to consumers to spend as these please or started some major government project using printed money (as was the case in the American Civil War). Also while the fate of the dollar is not likely to result in immediate hyperinflation within the foreseeable future the same cannot be said of other currencies. This I suppose could be included as part of the exorbitant privilege that the US enjoys. However even here there is an important fact to take note and that is in recent years some other currencies have enjoyed this privilege albeit to lesser degree. The UK and Japan have enjoyed low interest payments (which are actually negative in real terms) in their bonds despite both economies experiencing high debt, high fiscal deficits, trade deficits AND low growth prospects. The reason this happens is because both these economies enjoy "safe haven" status due to the on-going Euro crisis. Once the crisis in the Euro is resolved then it remains to be seen how the pound or yen will fair. In the event of a major currency collapse (such as that of the Euro) then it is likely we see appreciation in the Yen, Sterling and most significantly the US dollar in the immediate after mass which is the opposite of a hyperinflation end-point.
References
[1] = Black Wednesday: The day that Britain went over the edge (The Telegraph)
[2] = Currency Composition of Official Foreign Exchange Reserves – COFER (IMF: PDF document)
[3] = Developing World: Euro Loses Attraction as Reserve Currency (SPIEGEL)
[4] = Zimbabwe abandons its currency (BBC)
[5] = Amounts outstanding of over-the-counter (OTC) derivatives by risk category and instrument (Bank of International Settlements – pdf file)
[6] = Roosevelt's gold confiscation: could it happen again? (The Telegraph)
[7] = QE4 Is Here: Bernanke Delivers $85B-A-Month Until Unemployment Falls Below 6.5% (Forbes)
[8] = Bank of Japan's Haruhiko Kuroda in aggressive growth move (BBC)